Resources
New Report: If Inclusion Means Everyone, Why Not Me?
May, 2018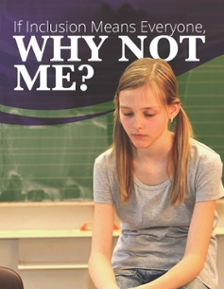 This Report identifies barriers that students labelled with intellectual disabilities and their parents and guardians face in Ontario's public school system and sets out some key insights into their experiences. The authors identified various factors that influence the quality of a student's education.
New Publication Available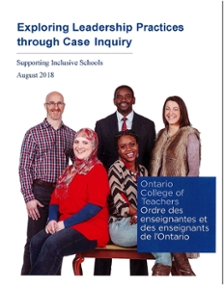 Exploring Leadership Practices through Case Inquiry is a case-based resource that was collaboratively developed by Wilfrid Laurier University, Brock University, Western University, Memorial University of Newfoundland and the Ontario College of Teachers (the College). It is designed to facilitate professional inquiry into inclusive education leadership practices through exploring experiences of school principals.
New Book Released by Team Members
March, 2017
"Inclusive Education: Stories of Success & Hope in a Canadian Context"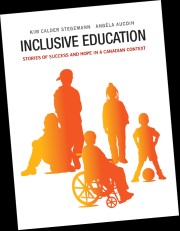 Pearson Education Canada has just released this new title, authored by Dr. Kim Calder Stegemann of Thompson Rivers University in BC and Dr. Angèla AuCoin at the Université de Moncton. The book opens with three brief chapters covering an overview of inclusive education, the history and theoretical background, which includes sections on Universal Design for Learning and Response to Intervention. Nine original case studies highlight how education team members collaborate in creating an effective inclusive experience for students with special learning needs
Dr. Gordon Porter, Director of Inclusive Education Canada, notes in the Foreword that "...inclusion is a reality in increasing numbers of classrooms in Canada, from east to west and north to south. That's why this book is so important. The stories and experiences are what we need to set the stage for further progress."
Both authors are members of the Canadian Research Centre on Inclusive Education. Several members contributed also to the cases and/or commentaries. They are: Drs. Sheila Bennett, Nancy Hutchinson, Jennifer Katz, Kimberly Maich, Donna McGhie-Richmond, Steve Sider, Jacqueline Specht, and Gabrielle Young.
This soft-cover book is available now for $49.95.
Disabling Segregation: A video by Dan Habib
In Disabling Segregation, a short 18-minute TEDx talk, documentary film maker Dan Habib imagines a new approach that provides a compelling reason to disable segregation. He focuses more on the positive impact of inclusion on all students in a classroom, and asks, "What kind of world do you want [your kids] to grow up in?" ...Who do you want them to become?"  Using a few real-world examples, Dan shows why advocating for inclusion can help the next generation become "patient, compassionate, creative and loving" instead of "scared...or uncertain".  
To watch the video click HERE.
---